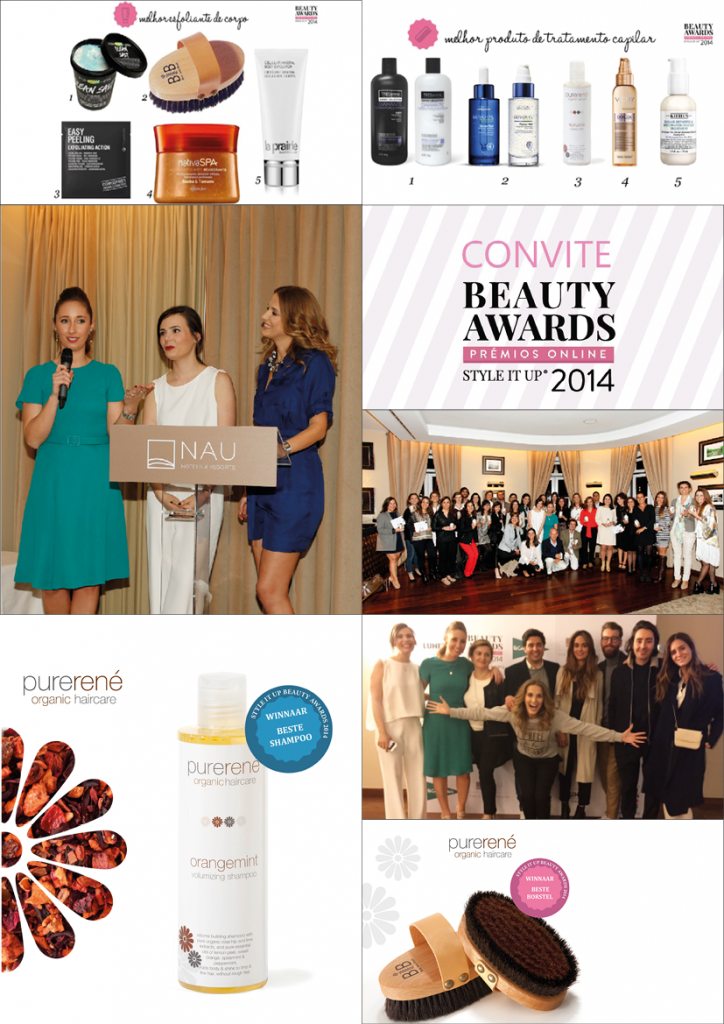 Award winner René Professional
Award winner René Professional
René Professional has been nominated for the Style It Up awards in Portugal three times and won two awards on March 25, 2015.
In Lisbon, after the jury made a selection of nominees, a festive feast and presentation held at the beautiful Vintage House. (Spa and 5 star hotel)
The Orange Mint volumizing shampoo has won first prize in the category Best Shampoo. This volume shampoo contains organic soy protein, rosehip and lime extract and pure essential oils of peppermint and citrus fruit. It gives body and shine to fine, lifeless hair and is enriched with vitamin E. The Orange Mint Shampoo is a bodybuilder when it comes to cleaning within the soap-free PureRené
range. The golden color comes from honey extracts that give your hair a perfume of tangerine and mint, a delicious blend of fresh scents. For normal, but certainly for fine hair, this is an indispensable shampoo.
In the category Best Scrub, the Body Ionic Brush from the Pure Wood line, had won the first prize. This is not just an average brush, but a body brush made of horsehair and fine bronze wires. A massage with this brush helps to find physical and mental balance. It has a neutralizing effect, causing the body's energy to flow freely again. A daily massage of 3 minutes with this vitality brush before showering is a natural and easy way to relax your body and feel vital.
Finally, we are of course very grateful for the nomination for Spirulina Curative Balm which was selected as a finalist in the category of Best Treatment from over 700 entries. This intensive balm for the hair contains organic spirulina, wheat, soy and wheat extracts and pure essential oils of peppermint, and safflower. It protects hair against damage from drying and styling. It is perfect for dry hair and it is enriched with vitamin E.
René would like to thank Diana Pijnenborg, who is devoted to René Professional from the first day. Diana is a great entrepreneur from Portugal who understands how important it is to find a balance between nature and functionality for hairdressers and consumers who are looking for authenticity in cosmetics. We are grateful to Diana for supplying the PureRené products and the wonderful outcome in Lisbon this year.